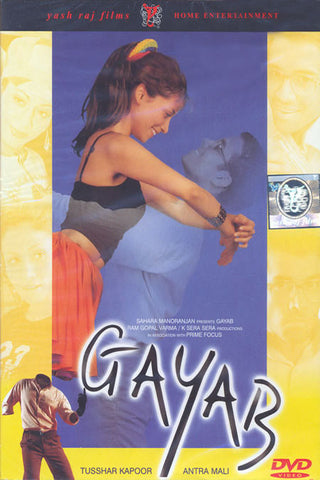 Gayab DVD
The film stars Tusshar as Vishnu Prasad a nerdy looking innocent boy. He is the main character of the film but his wardrobe and look is definately different than that of the regular hero of a film.
He is not exactly a ladies man. He lives with his parents and pretty much does not have the respect of his friends or peers. He is somewhat of a loser until.... a higher power God gives him the freedom to be invisible. Vishnu is head over heels in love with Mohini but she has a jealous boyfriend so Vishnu doesn't tell her anything.
But being invisible could have it's advantages no? He can pretend to be God he can check out Mohini when he wants (hopefully nothing as creepy as the Hollywood film Hollow Man).
Can Vishnu really change his life if he is Gayab from the real world? Can he win Mohini's love despite all obstacles?
In the Hollywood film Bruce Almighty Jim Carrey became God.... In Bollywood we saw the original invisible man Anil Kapoor as Mr. India but will Gayab mesh the two together or will it surpass both films in concept and theme? This film is an extended story of a sub-plot called 'Stop' from the other RGV production 'Darna Mana Hai'.
Antara Mali is seen as becoming a Verma favourite and Tusshar has a lot to prove in this complex role.
---
We Also Recommend