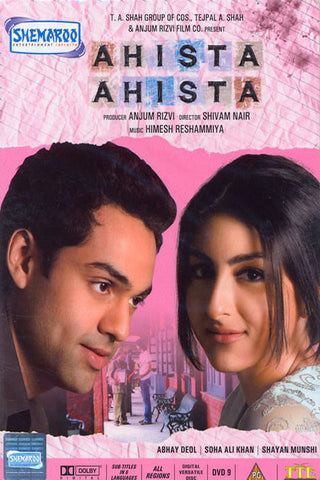 Ahista Ahista DVD
Ankush [Abhay Deol] scrapes a living by acting as a witness in the marriage registrar's office in Delhi . Megha [Soha Ali Khan] has run away from her home in Nainital to marry her love Dheeraj [Shayan Munshi]. But Dheeraj doesn't turn up at the appointed hour.
Ankush helps Megha get a job at an old age home so that she has the security of a roof over her head. As time passes by Megha realizes that there's more to life than her boyfriend. Simultaneously Ankush realizes that the Rs. 10000 loan he had taken for Megha's sake was sitting heavy on him. He ends up as a bank's representative who opens savings accounts at a commission. Ankush feels that he has changed because of Megha and her faith in him.
Everything seems to be falling in place for Ankush. A relationship of sorts develops between the two and Megha decides to leave her past and Dheeraj behind and embrace the future with Ankush. At this point Dheeraj returns. He is persistent in his search for Megha. Ankush's new-found world crumbles‰‰âÂ_
AHISTA AHISTA doesn't give an impression that it's directed by a first-timer [Shivam Nair]. Shivam's storytelling is simple and strikes a fine balance between dramatic and light moments. A number of sequences especially between Abhay and Soha are sensitively treated. If the emotional scenes strike a chord and a few dramatic portions are shot with flourish [Abhay slapping Shakeel Khan] a couple of light moments [Abhay pretends that he has come to meet a senior citizen in the old age home and the conversation that follows] succeed in bringing a smile on your face.
---
We Also Recommend