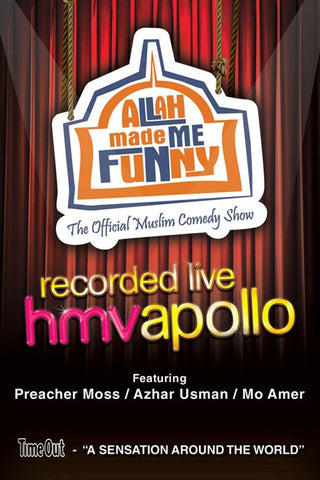 Allah Made Me Funny DVD
This groundbreaking concert film follows three acclaimed comedians on and off the stage as they lift the veil to reveal the humourus side of what itÕs really like to be an American Muslim.
Mo Amer, Azhar Usman and Preacher Moss poke fun at themselves, their communities, government, human nature, and the tricky predicament of living in post 9/11 America.
Allah Made Me Funny: Live in Concert is perfectly timed. At a moment when Americans are vitally in need of new ways to approach a polarizing topic, these stand-up truth-tellers provide people of all cultural backgrounds and opportunity to laugh hard, drop their guard, and open their minds.
Having toured the UK comedy circuit in 2008 to capacity audiences, the phenomenal Allah Made Me Funny trio came back for one single blockbuster show at the HMV Apollo on 17 April 2009.
---
We Also Recommend