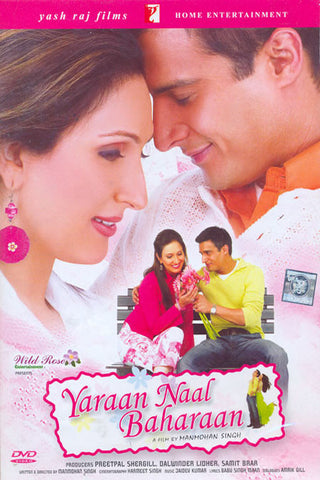 Yaaran Naal Baharaan DVD
The film is extensively shot in Punjab University (Chandigarh) campus which shows the real campus life of students studying there.
It is a story of young hearts seeing each other and falling in love. Falling in love makes their life so different and beautiful.
The film shows the college life of the students their hostel life the way they enjoy in the college and the hard work they put in for their studies. The protagonist ‰ÛÒ Navdeep (Jimmy Shergill) son of an Army major played by Raj Babbar sees this girl Harman (Juhee Babbar) and falls in love with her. In span of time she also starts liking him. There are lots of good moments between both of them while Navdeep tries to convince her for his love. Both fall in love and start dreaming of a happy life together. Problems arise when they think of taking their parent‰۪s consent before going any further. Harman‰۪s father played by Anupam Kher ‰ÛÒ is a typical Punjabi father with a big ego who does not appreciate the idea of his daughter selecting a groom herself. Same is the case with Raj Babbar. He has given Navdeep all the freedom in life; but cannot accept the fact that his son has chosen a girl for himself. He thinks it is his duty and right to find a girl for his son.
Now both Navdeep and Harman are in a dilemma. Neither can they go against their parents nor can they live without each other. How they convince their parents about their relationship without hurting their sentiments is the rest of the story.
---
We Also Recommend