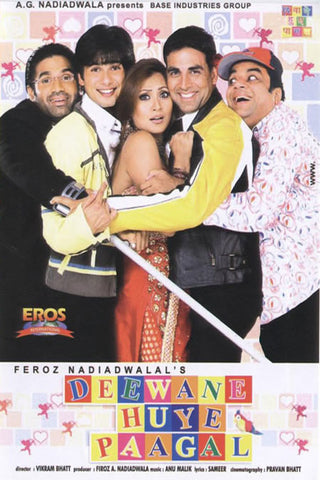 Deewane Huye Paagal DVD
Deewane Huye Paagal begins as a sweet romance between a cute boy-next-door Karan (Shahid Kapoor) and the ravishing Tanya (Rimii Sen). The latter is the cynosure of two evil eyes because she is in the know of certain secret information.
When Karan's friend coaxes him to track Tanya after she migrates to Dubai he enlists the aid of a deceptively handsome investigator Rocky (Akshay Kumar) to chase her down. But Rocky ends up falling in love with her at first sight. Meanwhile Tanya's physically disabled friend Sanju (Suniel Shetty) also has a soft corner for her and tries thwarting Rocky‰۪s attempts at getting close to Tanya.
The plot thickens when yet another unexpected party falls in love with Tanya thus setting up a hilarious love pentagon with a gaggle of con men and a lovelorn flame-wannabe following her around like panting puppies. The funny climax shot against the picturesque sand dunes of Dubai is a mix of madness and mayhem!
From the makers of Hera Pheri Awara Paagal Deewana and Aan ‰ÛÒ Men At Work this sweet and effective romantic comedy with sprinkles of glamorous action is for those who can embrace humor in all its perversity.
Lavishly shot in the US and Dubai and featuring a line-up of Bollywood‰۪s most popular stars a dog and a parrot play important roles in this non-stop laugh riot as well.
---
We Also Recommend