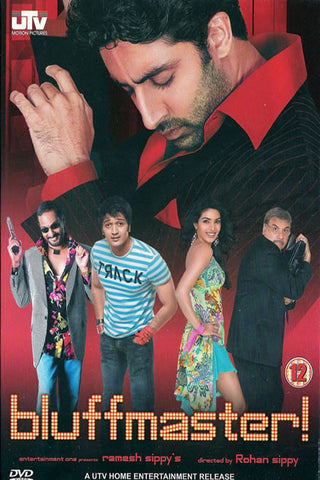 Bluffmaster DVD (2 DVD Set)
Roy (Abhishek Bachchan) is a professional conman set to marry the love of his life. Simmi (Priyanka Chopra) - a gorgeous hotel worker unaware of her fiance's underhanded dealings. When the truth is out Simmi is devastated and kicks out a heartbroken Roy.
As he attempts to leave his dishonest lifestyle in an effort to patch things up Roy meets up with seemingly clueless putz Dittu (Ritesh Deshmukh) a prospective con-artist who asks Roy to take him under his wing. After seeing Simmi out with a new boyfriend Roy agrees to Dittu's request only to receive more bad news from a doctor after suffering a series of blackouts. A tragic end seems inevitable but Roy soon finds out things aren't all they appear to be and that he isn't the only 'bluffmaster' in town..."
---
We Also Recommend