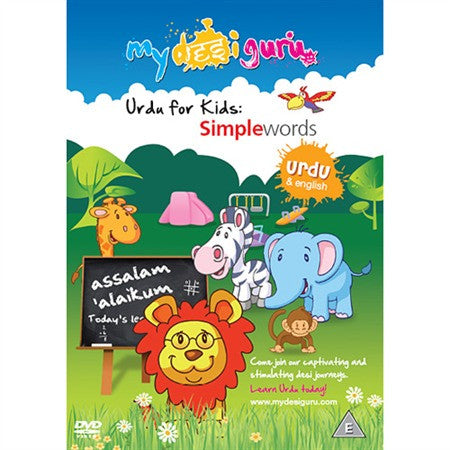 My Desi Guru - Urdu for Kids: Simple Words
About the DVD... A spectacular jungle adventure where Kishy and friends learn Urdu words in a truly multi-sensory and interactive method.This innovative, colourful and educational visual learning tool teaches common words kids can use in everyday language: food and drink; fruit; playground; clothes; days of the week, expressions, body parts and a whole lot more! Watch your little one becoming a language guru!

About My Desi Guru... My Desi Guru allows kids to learn English & an Asian language in a unique, interactive and stimulating way. Their DVDs are educational and entertaining, supporting parents efforts to teach an Asian language to young kids around the world using the most modern and successful language learning methodologies.

Kids delight with the animated jungle characters, eye-catching visuals, new story adventures, interactive games and music. Ideal for kids growing up outside their home countries and content and artwork is visually striking, well presented and modern.

Loved by children and their parents alike, the DVDs have generated much positive feedback and fulfilled kids and parents expectations. Interest has been expressed from around the globe! Truly a great and unique gift with long lasting benefits. Kids will simply want to watch them again and again!

So join Kishy, Loki, Isla, Tiki and Oni for jungle adventures. Come join our language journeys!

Available in Hindi/English, Urdu/English, Gujarati/English and Punjabi/English.

---
We Also Recommend