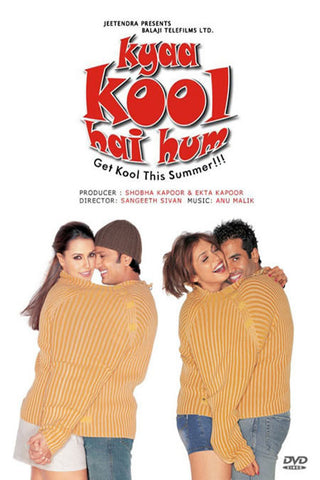 Kyaa Kool Hai Hum DVD
Meet Rahul (Tusshar) and Karan (Riteish). Two young men who have come to the city of dreams to make it on their own's steam. Not exactly diaper buddies, but definitely thick friends. Though Rahul is sincere, simple and hardworking and Karan is just the opposite. However, they share one thing in common. Both are wannabes trying to attain a cool lifestyle. While Rahul aspires to become a famous fashion designer some day, Karan dreams of marrying a girls with a pretty face and a prettier bank balance.
Meanwhile, the city is rocked with a series of rape & killings & the police are in search of this dreaded Serial Killer. Things take a funny turn, when Rahul becomes the prime suspect as the serial killer and this sets the police on the trail. They hatch a plan with the help of a famous criminologist (Anupam Kher) to nab him in action. The job of nabbing Rahul in action is entrusted to a violent lady inspector called Urmila Martodkar (Ishaa Koppikar).
Meanwhile Karan, the wannabe Casanova, has managed to woo his boss's ex-girlfriend called Kiran. Kiran's parents plan to separate the two and for that they call Kiran's cousin Rekha (Neha Dhupia), a psychologist for help.A complete laugh riot and a thorough entertainer, the film reaches its crescendo when the police are on the verge of arresting Rahul as the rapist and Karan is about to wed Kiran at the temple...
What happens next? Do mistaken identities fall into place? Is the police able to nab the real killer? "KYAA KOOL HAI HUM" with its marathon cast of an entire comedy brigade, is a roller-caster ride of mistaken identities, comedy of errors & deals with the basic spice of life...
---
We Also Recommend