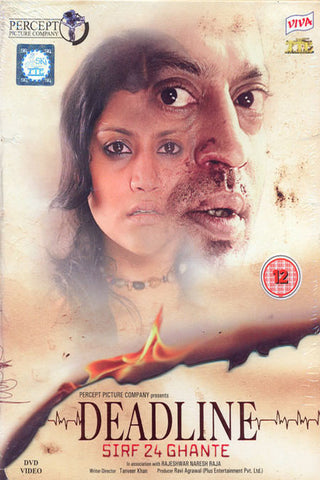 Deadline Sirf 24 Ghante DVD
Renowned heart specialist Dr. Viren Goenka his wife Sanjana and their seven-year-old daughter Anishka are a happy family in Mumbai. Their joys have just multiplied with Viren being honoured with a prestigious award for his contribution to the medical world. Viren is all set to visit New Delhi to receive this award in a grand function. He promises his daughter to take her for a fabulous family vacation once he returns.
But fate had something else planned for Viren and his family. Destiny strikes hard against them and Anishka is kidnapped under Sanjana's nose. She is startled with the presence of a creepy man named Krish in her house. Krish tells her that Anishka will be fine as long as Sanjana and Dr. Goenka follow his instructions.
While Krish keeps Sanjana in the house his partner Roohi keeps Viren confined in his hotel room and their third associate Kabir holds Anishka at a remote location.
The kidnappers keep strict half-hour checks with each other by cell phones and if all goes as planned the whole act would take only 24 hours. The kidnappers set the ransom to a whopping amount of Rs 3 Crore.
It doesn't take much for Viren and Sanjana to realize that abiding by the kidnappers' rules is the best thing that they could do to save their daughter's life. Viren mortgages everything possible including his dream hospital project and his house and somehow manages to collect Rs 3 Crore in just 24 hours an act next to impossible being trapped at one place.
But it seems that testing time had just begun for the already suffering family. Something highly unfortunate strikes and the kidnappers flee without any sign of their daughter and take away the ransom money as well. Both Sanjana and Viren are uncertain about what could have happened and fear for the life of their only beloved daughter Anishka.
Viren wants his daughter back at any cost and thus he tries to exploit all his resources. Entire police force is on move to search for any clues of the kidnappers or Anishka but they can't discover anything significant. As the clock ticks away a series of incidents take place and the turmoil almost changes each life. What happens next is the harsh reality that crosses a thin line between life... and death.
The film is co-written by Dileep Shukla who is an equally eminent writer whose recognitions include blockbusters like GHAYAL and DAMINI. The cinematographer is the accomplished Baba Azmi. The music of the film has been composed by the new fanged Anshul-Sandy and the lyrics penned by Anshul Vijayvargiya.
---
We Also Recommend