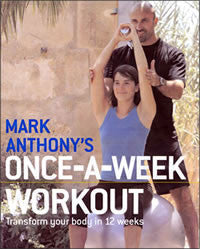 Mark Anthonys Once-A-Week workout
At last the perfect solution for busy people is here. Mark Anthony's Once-A-Week Workout offers a 12-week fitness programme that is scientifically proven and guarantees results.
The workouts are specifically for men and women. One workout only takes 50 minutes to perform and tones the whole body burning calories without fatigue. There is also advice on other forms of exercise nutrition and equipment.
Mark's motivating words will captivate you making this the only fitness book worth reading.
This greatÊbook helps you getÊin shape withÊcelebrity trainer Mark Anthony.
---
We Also Recommend