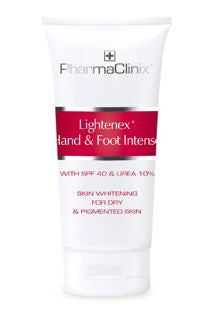 Pharmaclinix Lightenex Hand and Foot Cream - Silver Series
LIGHTENEX HAND & FOOT
With a new advanced formulation, it is advised that you sample the cream by applying a small amount on the inside of elbow & leave for 48 hours to check for sensitivity or allergy.
Lightenex hand & foot cream is a skin whitening formula containing potent skin lighteners, urea, vitamins with SPF 40 sun protection:

Helps to reduce hyperpigmentation

Intense moisturiser
Protects against UVA and UVB rays
Exfoliates dry & thickened skin
Nourishes & moisturises hands & feet
Directions for use:
Apply liberally and gently massage into your hands & feet until fully absorbed.

Re-apply frequently

Ingredients:
Urea

Octadecadenoic acid

Niacinamide

Magnesium ascorbyl phosphate (Vitamin C)

Liquorice extract
Salicylic Acid
Physical Sun filters
UVA & UVB filters
*Please Note:

Only natural plant-based extracts are used in PharmaClinix products, resulting in a slight change of colour. This is normal.
They do not use any harsh or synthetic chemicals. 
---
We Also Recommend