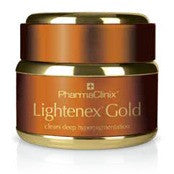 Pharmaclinix Lightenex Gold - Gold Range
Lightenex¨ Gold is developed for:
Most resistant Hyperpigmentation
Deep Dermal Melasma with hyperkeratosis
Lightenex¨ Gold is particularly useful for thick dark grey-black areas of skin e.g.:
Face
Knees
Elbows
Under arms
Private parts
Back of the neck
Acanthosis Nigracans
The unique formulation is incorporated in a Nano-liposomal delivery system with the most advanced penetrating therapeutic technologies, so that maximum tolerable concentrations of powerful whitening ingredients are targeted at the Melanocytes.
Does not contain Hydroquinone!
High potency skin lightening formulation.
Maxium concentration of powerful, clinically proven whitening ingredients that are targeted at the melanocytes to reduce melanin production.
NO OTHER FORMULA MATCHES THIS!
Check out the range & concentration of clinically proven active ingredients:
Alpha Arbutin
Beta Arbutin
Magnesium Ascorbyl Phosphate
Octadeanoic Acid
Niacinamide
L-Lactic acid
Retinaldehyde
N Ðacetyl Glucosamine
Salicylic Acid
Liquorice Extract (Glabridin)
Ferulic Acid & mixed Tocopherols
---
We Also Recommend