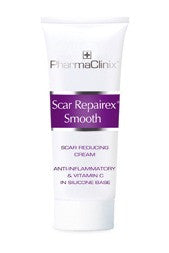 Pharmaclinix Scar Repairex Smooth - Silver Series
SCAR REPAIREX SMOOTH CREAM
With a new advanced formulation, it is advised that you sample the cream by applying a small amount on the inside of elbow & leave for 48 hours to check for sensitivity or allergy.
Scar Repairex Smooth cream is a scar reducing cream containing anti-inflammatory agents, Vitamins C & E with salicylic acid in a silicone base.
The unique formula contains ingredients that are clinically proven to help prevent:
Fades & reduces Scars
Provides optimum conditions for rapid healing.
Raised and discoloured scars become flatter, softer & smoother.
Directions:
Wash the area to be treated.
Apply a thin layer of cream until fully absorbed.
Apply twice daily.

Ingredients:
Magnesium ascorbyl phosphate

Salicylic acid

Mixed tocopherols
*Please Note:

Only natural plant-based extracts are used in PharmaClinix products, resulting in a slight change of colour. This is normal.
They do not use any harsh or synthetic chemicals. 
---
We Also Recommend