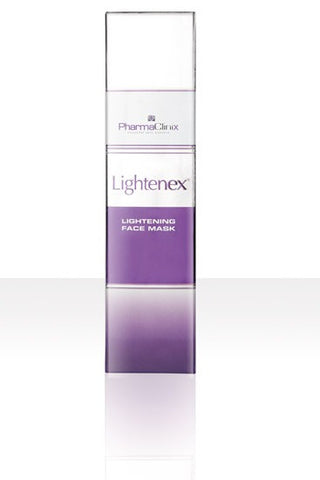 PharmaClinix Lightenex Face Mask 250ml
This unique whitening face mask is designed:
To lighten the skin within five minutes.
To remove dead surface cells
To tighten the pores and tone the skin
To remove impurities and excess oil
To boost the skinÕs renewal processes
For INSTANT lightening of the face.
Clinically tested and produced in the EU
INGREDIENTS (INCI):
Actinadia Chinensis
Water (Kiwi) Fruit extract: With the highest antioxidant potential, kiwi is ideal preventative treatment for the development of age spots.
Sophora Angustifoila extract
Sophora augustifoila and kiwi fruit work in conjunction with each other to reduce the production of melanin (the brown pigment in skin)
Citrus unshui peel extract:
This reduces inflammation and strengthen the skinÕs barrier function against hyperpigmentation.
Arctostaphylos uva-ursi L. Sprengel
This possesses antioxidant activity, with antiseptic, astringent properties which protects the skin from damage or allergic reactions.
Mitracarpus Scaber extract
This strong lightening agent prevents the action of tyrosinase, thereby inhibiting the production of the brown pigment, melanin.
Humulus Lupulus
This is an anti inflammatory extract which prevents free radical damage to the skin, therefore protectinbg the skin from hyperpigmentation.
Rosemary-Romarinus Officinalis Extract
This extract is excellent at both toning and firming the skin, whilst stimulating new skin cell growth.
Witch Hazel-Hamamelis Virginiana Extract:
This extract has both astringent and anti-inflammatory properties, which helps to protect the skin from external influences which can damage the skin.
Sage-Salvia Officinalis Extract
This extract is used to help heal and promote new skin cell growth. This therefore promotes the production of newer, lighter skin cells, replacing the darker skin cells that already exist.
Horsetail Extract-Equisetum Arvense Extract
This extract speeds up skin heeling and also has string firming and tightening properties, thereby preventing melanin stimulation.
Citrus Medica limonum (Lemon peel extract)
This extract helps to prevent skin discolouration, as well as being a naural cleanser and astringesnt for the skin.
Centella Asiatica Extract
This behaves as a skin conditioning agent and promotes the skinÕs healing process, which helps promote new skin cell production in the skin lightening treatment.
Pine Needle
This has antiseptic properties which prevents bacterial propagation, thereby stopping post inflammatory pigmentation.
Caesalpinia spinosa
This extract gives the skin deep and long lasting moisture. It helps to exfoliate and rebuild the epidermis, which is vital for effective skin lightening.
Glycyrrhiza Glabra Extract
This extract has anti inflammatory activity, which protects the skin against possible environmental damage, thereby preventing pigmentation.
Malva Sylvestis Extract:
Is a fantastic emollient and anti-inflammatory agent.
Avocado Oil
This oil contains protein, Vitamin A, D and E, which helps to increase the water-soluble collagen content in the dermis layer of the skin. Therefore, it has nourishing and conditioning effects on the skin.
Camellia Extract- Camelia Sinensis
A Fragrant additive
Niacinamide
This extract is a component of the Vitamin B2 complex, which regulates the skinÕs metabolic processes and ensures healthy skin cell growth.
Panthenol
This promotes regeneration of the skin, which is necessary when encouraging new, fairer skin cell growth in the skin lightening process.
Calcium Pantothenate
This is a member of the B-complex family of vitamins, which is used for new, healthy skin cell growth.
Magnesium Chloride

Potassium Chloride
This is an essential mineral for promoting healthy skin growth.
Aluminium Chloride
This reduces perspiration thereby allowing active ingredients not to be washed away.
Zinc Chloride
This extract helps the skin to effectively absorb all the ingredients in the skin lightening formulation, thereby maximising the skin whitening results.
Copper sulphate
Anti-fungal and anti-bacterial agent preventing infectious which increases pigmentation.
Manganese Chloride- stabiliser
Sodium Chloride
This is used for its natural cleansing, toning and moisture absorption properties.
Titanium Dioxide
This extract is a sunblock to both UVA and UVB rays, therefore preventing hyperpigmentation caused by sun damage.
Alcohol
An organic chemical compound with moisturising properties.
Glycerin
This helps to moisturise and soften the skin in the skin lightening process.
Lysine
This is an essential amino acid that is an important constituent of collagen, which helps to keep the skin looking young and healthy.
Butylene Glycol
This is a strong moisturising agent for the skin.
Glyceryl Stearate
A strong emollient to prevent drying of skin cells.
Ceteareth-20
An emulsifier and thickening agent allowing active ingredients to be evenly distributed in the suspension.
Ceteareth-10
An emulsifier
Cetyl Palmitate
an effective emollient that hydrates the skin.
Cetearyl Isononanoate
This protects the skin from dehydration and has water-resisitant properties.
Cetearyl Alcohol
an emollient, thickener and stabiliser
Acrylates C 10-30
Thickening surfactant system, which forms a film over the skin.
DMDM Hydantoin
Preservative, antimicrobial to fught bacteria
Methylparaben
This extract is very effective as a preservative
Disodium EDTA
chelating and viscosity adjuster
Iodopropynyl butylcarbamate
cosmetic conservant
TEA (Triethanolamine)
neutralising agent
---
We Also Recommend