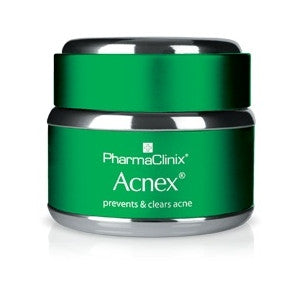 Pharmaclinix Acnex Cream
Acnex has been formulated after studying new and established clinical studies on the most effective ingredients to help prevent issues associated with Acne.
Acnex may help with:
Easing inflammation and redness
Preventing new breakouts
Clearing existing acne
Reducing blackheads
Rosacea
Minimising the appearance of large pores
Keeping the skin soft, clear and even-toned
Fading post-blemish marks and hyperpigmentation
Folliculitis barbae (razor bumps due to ingrowing hairshafts in people with dark curly hair)
Healing Process
In the first few days, the pores of the glands will be noticably smaller and shine due to the oil is diminished
Following this, the skin surface will be flatter, move even and smooth, as sebum production is reduced by the active ingredients in Acnex
Within 10 days, redness and tenderness diminishes and fades away. This is due to the powerful anti-inflammatory and anti-microbial ingredients start having their effect
After a few weeks of treatment, the skin should be acne free
Prevention against Acne!!
---
We Also Recommend