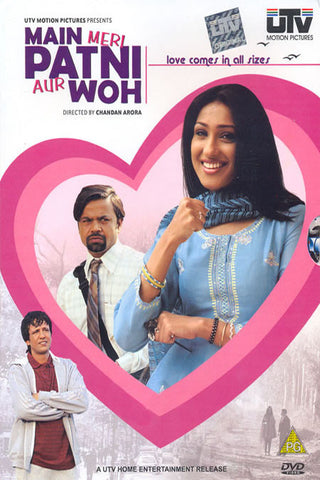 Main Meri Patni Aur Who DVD
Main Meri Patni Aur Woh' is Mithilesh Shukla's (Rajpal Yadav) story. He is a short inconspicuous looking guy working as a librarian at the Lucknow University. Happy being a bachelor boy he finally succumbs to family pressure and agrees to see a girl in Bareilly.
He is mentally prepared to face rejection from the girl. Mithilesh meets Veena (Rituparna Sengupta) and is captivated by her looks charm and attitude. But there is a hitch. She is a few inches taller than him. Surprisingly Veena too is attracted to his simplicity and consents to the marriage.
Mithilesh is thrilled and surprised. So are his family friends and neighbours. But the trouble begins now! No no Veena is not unfaithful to him but his insecurities surface. Every compliment paid to Veena and every interaction with any male begins to bring ugly thoughts into Mithilesh's mind. He looks at every man who talks to her as his competitor and begins to feel even more insecure about the differences in height and look between Veena and him."
---
We Also Recommend