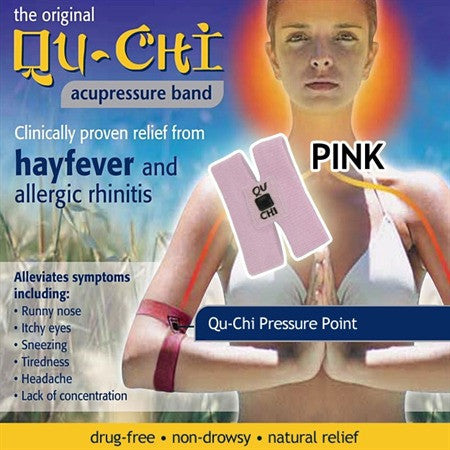 Qu-Chi Acupressure Band - Pink
The Qu-Chi Acupressure Band
Relief from hayfever, allergic rhinitis and related symptoms
This drug-free acupressure band alleviates symptoms such as runny nose, itchy eyes, sneezing, headache, tiredness, and lack of concentration.
The band is simply placed around the elbow over the "Qu-Chi" pressure point, a specific focus-point on the body, linked to the front of the face and the sinuses.
It is suitable for all ages, can be worn day or night, worn on either arm and can be hand washed.
The Qu-Chi:
Drug-free, natural product - clinically proven relief from hayfever and allergic rhinitis
Alleviates symptoms such as runny nose, itchy eyes, sneezing, tiredness, headache and lack of concentration
Can be used with other medication and is suitable for use throughout the night, thereby giving 24 hour relief
Does not cause drowsiness
Fast acting
Suitable for all ages
Should be worn from before symptoms start, but can be put on when symptoms noticed
Can be worn on either arm
Can be worn at night to help with sleep problems
Can be used all year round for non-hayfever related allergic rhinitis Ð it may even help with other allergies such as house dust-mite or pets.
NOT suitable for use in pregnancy
Registered with medical devices agency as class 1 medical product (CE marked)
Product can be hand washed
Now available in a choice of colours Ð Beige or Pink
Directions for use are included
---
We Also Recommend