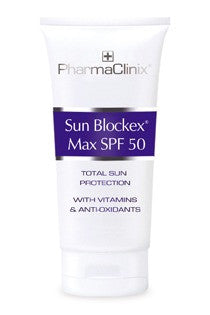 Pharmaclinix Sun Blockex - Silver Series
SUN BLOCKEX MAX SPF 50
With a new advanced formulation, it is advised that you sample the cream by applying a small amount on the inside of elbow & leave for 48 hours to check for sensitivity or allergy.
Sun Blockex SPF 50 Max with Vitamins & Anti-oxidants:

Prevents & helps clear hyperpigmentation
Protects skin after laser therapy

Protects against UVA and UVB rays
Reverse Ageing
Directions of use:

Apply liberally and gently massage onto your face and exposed areas prior to sun exposure.
Re-apply frequently and after drying.
Caution:
Use as directed. Avoid contact with eyes and mucous membranes. If contact occurs, rinse immediately with plenty of cold water. If skin irritation occurs, discontinue use
Ingredients:
Mag ascorbyl phosphate
Ascorbic acid

Niaciamide

Vitamin E 

Tocopheryl

Octocrylene

Titanium Dioxide

Collagen
*Please Note:

Only natural plant-based extracts are used in PharmaClinix products, resulting in a slight change of colour. This is normal.
They do not use any harsh or synthetic chemicals. 
---
We Also Recommend