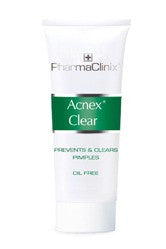 Pharmaclinix Acnex - Silver Series
ACNEX CLEAR
With a new advanced formulation, it is advised that you sample the cream by applying a small amount on the inside of elbow & leave for 48 hours to check for sensitivity or allergy.
Acnex Clear cream is specifically developed to prevent and treat Acne in teenagers.  It also prevents the dark marks which are usually left after the acne has been treated.
Blemish-free skin without harsh chemicals!
Prevents pimples
Clears pimples
Reduces dark pigmentation
Reduce Rosacea
Reduce pre-menstrual break -outs
Reduce lesions
Oil Free
Directions for use:
Apply a thin layer on a clean face, twice a day.
Ingredients:

Niacinamide
FDA licensed ingredient for inflamed Acne (Papulex in USA and Nicam in UK)
Salicylic acid
Octadecenedoic acid
Salicylic acid
Comes in a 30ml tube

*Please Note:
Only natural plant-based extracts are used in PharmaClinix products, resulting in a slight change of colour. This is normal.
They do not use any harsh or synthetic chemicals.
---
We Also Recommend