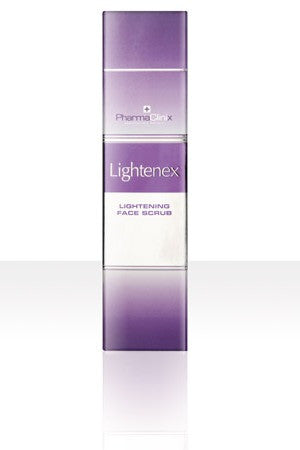 PharmaClinix Lightenex Face Scrub & Wash 250ml
This unique skin lightening formulation is designed to gently remove the dark surface skin cells, leaving your skin looking more radiant & brighter.
It allows better penetration of the Lightenex cream to the melanocytes to reduce melanin production.
Softens the surface cells so that Lightenex can penetrate to the deeper melanin producing cells.
Helps stimulate cell regeneration by increasing the rate of dead cell shedding, new cell production & collagen formation.
Unclogs pores so that your skin feels clearer & fresher.
Clinically tested and produced in the EU
INGREDIENTS (INCI):
Arctostaphylos uva-ursi L. Sprengel
This possesses antioxidant activity, with antiseptic, astringent properties which protects the skin from damage or allergic reactions that initiate the hyperpigmentation process.
Mitracarpus Scaber extract
This strong lightening agent prevents the action of the enzyme tyrosinase,which is essential in making melanin the pigment causing the dark patches.
Solanum Lycopersicum
an anti oxidant which mops up free radicals that trigger hyoerpigmentation.
Schisandra Chinensis extract
an anti-oxidising agent preventing damage to skin cells which results in hyperpigmentation.
Papain
This enzyme extract has the ability to digest dead tissue and promotes new skin cell growth, which increases the efficacy of the skin lightening process.
Cocamidopropyl Betaine
This is used as a mild cleanser to the skin
Bromelain
This extract digests dead skin cells, which allow the lightening ingredients to work more effectively on the living skin cells underneath.
Hydrogenated Vegetable Oil
This has smoothening and softening properties for the skin.
Niacinamide
This extract is a component of the Vitamin B2 complex, which regulates the skinÕs metabolic processes and ensures healthy skin cell growth.
Caprilic/Capric Triglyceride
This extract has good emollient properties that prevents the skin cells from losing water and shrinking trereby inititing hyperpigmentation.
Glycerin
This helps to moisturise the skin and prevents shrinkage of skin cells to abort the beginning of the hyperpigmentation cycle.
Mannitol
This has hyperosmolar properties which softens the skin and prevents hyperpigmentation.
Cetearyl Alcohol
an emollient, thickener and stabiliser
TEA (Triethanolamine)
neutralising agent to form gels
PEG-7 Glycerol Cocoate
Emollient and co-emulsifier
Disodium EDTA
This is a chelating agent, resulting in a more stable product. This ensures that the quality of the product remains at its best for a long period of time.
Magnesium laureth sulfate
This is a mild cleansing agent, and helps to ensure that the product can be used on the most delicate skins.
Ceteareth-12
This is an efficient emulsifier, which prevents the oil and water phases from separating. This ensures that the ingredients have maximum effect on the skin.
Ceteareth-20
This provides exceptionally stable emulsions, which keeps the product quality at its level best.
Acrylates C 10-30 Alkyl Crosspolymer
This is a specially designed surfactant which delivers great clarity in gel systems
DMDM Hydantoin
This is a preservative and an antimicrobial
Iodopropynyl butylcarbamate
This is a product conservant, which ensures long lasting quality in cosmetic creams
Methylparaben/Propylparaben

Hexy cinnamaldehyde
extract used for its aroma
Limonene
A fragrance additive
Linalool
A natural fragrance
Geranoil
Naturally occurring fragrant compound found in many essential oils
This unique skin lightening formulation is designed to gently remove the dark surface skin cells, leaving your skin looking more radiant & brighter.
---
We Also Recommend