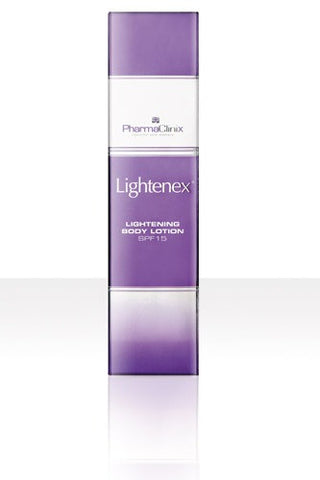 PharmaClinix Lightenex Body Lotion 250ml
Lightenex body lotion is especially designed to lighten the skin on your neck, arms & legs, as the skin surface cells in these areas are different from the ones on the face.

Easily absorbed into the skin to reach the deeper melanin (pigment) producing cells, leaving the body with a noticeably fairer appearance and beautifully even skin tone.

The skin is also moisturised, and incorporates a sunscreen, offering some much needed sun protection.
Clinically tested and produced in the EU

INGREDIENTS (INCI):
Arctostaphylos uva-ursi L. Sprengel
This possesses antioxidant activity, with antiseptic, astringent properties which protects the skin from damage or allergic reactions that initiate the hyperpigmentation process.
Kojic Dipalmitate
Kojic Dipalmitate is a safe naturally-derived skin lightening agent. It acts by inhibiting the production of melanin. Its effect is enhanced by the other root extracts.
Actinadia Chinensis Water (Kiwi) Fruit extract:
With the highest antioxidant potential, kiwi is ideal preventative treatment for the development of age spots.
Sophora Angustifoila extract
Sophora augustifoila and kiwi fruit work in conjunction with each other to reduce the production of melanin (the brown pigment in skin).
Citrus unshui peel extract:
This reduces inflammation and strengthen the skinÕs barrier function against hyperpigmentation.
Arctostaphylos uva-ursi L. Sprengel
This possesses antioxidant activity, with antiseptic, astringent properties which protects the skin from damage or allergic reactions.
Mitracarpus Scaber extract
This strong lightening agent prevents the action of tyrosinase, thereby inhibiting the production of the brown pigment, melanin.
Caesalpinia spinosa
This extract gives the skin deep and long lasting moisture. It helps to exfoliate and rebuild the epidermis, which is vital for effective skin lightening.
Chondus Crispus
This is an excellent emollient, which leaves your skin feeling smooth, silky and well hydrated. It noursishes and protects your skin from environmental elements, thereby preventing hyperpigmentation.
Aveena sativa extract
This extract has a strong moisturising and anti-aging effect, therefore protect the skin from hyperpigmentation spots.
Hellianthus Annuus seed oil
This extract can retain moisture in the skin and also provides a protective barrier against any external substances which can lead to skin damage.
Daucus carota oil
This helps to protect the skin from free radical damage and promotes the production of new cells, thereby inhibiting hyperpigmentation and helping the formation of healthier looking skin.
Sodium Ascorbyl Phosphate
This is an anti oxidant which promotes the production of collagen cells, keeping the skin looking young, taut and healthy.
Retinyl Palmitate
Thi is an essential skin nutrient necessary for healthy skin maintenance and repair. It helps to achieve the skin lightening results by removing dead skin cells.
Niacinamide
This extract is a component of the Vitamin B2 complex, which regulates the skinÕs metabolic processes and ensures healthy skin cell growth.
Lecithin
This is an essential building block for the skin cellÕs membrane and cell wall. This is therefore vital to maintain healthy skin cells.
Tocopheral Acetate
This extract forms a barrier against moisture loss from the skin. It is a major anti-oxidant, which prevents free radical damage in skin tissues, thereby inhibiting hyperpigmentation.
Panthenol
This promotes regeneration of the skin, which is necessary when encouraging new, fairer skin cell growth in the skin lightening process.
Beta Carotene
This is an anti oxidant which mops up free radicals, thereby protecting the skin from damage, which can cause hyper pigmentation.
Castor Oil
This is a soothing and lubricating ingredient used in creams.
Glycerin
This helps to moisturise the skin and prevents shrinkage of skin cells to abort the beginning of the hyperpigmentation cycle.
Allantoin
This extract promotes healthy skin, as well as having healing, soothing and anti-irritating properties.
DMDM Hydantoin
This is a preservative and an antimicrobial
Alcohol
An organic chemical compound with moisturising properties
Butylene Glycol
This is a strong moisturising agent for the skin.
Glyceryl Stearate
This is an emollient and emulsifier, which prevents water loss, keeping the skin firm and prevents hyper pigmentation.
Ethylhexyl stearate
This is an emollient which prevents water loss, that has a softening and soothing effect on the skin
Ethylyhexyl Methoxycinnate
This is an active ingredient in creams which prevents the sun damage by UV radiation, thereby preventing hyper pigmentations marks on the skin.
Butyl Methoxydibenzoylmethane
This is used in sun screens to absorb the full spectrum of UVA rays, therefore stopping sun damage on the skin, and reducing any hyper pigmentation.
Cetearyl Isononanoate
This is a water-resistant agent that protects the skin from dehydration, therefore preventing any damage which can cause hyperpigmentation marks.
Cetearyl Alcohol
an emollient, thickener and stabiliser
Acrylates C 10-30
Thickening surfactant system
Methylparaben/Propylparaben

TEA (Triethanolamine)
neutralising agent to form gels
EDTA
This is a chelating agent, resulting in a more stable product. This ensures that the quality of the product remains at its best for a long period of time.
Iodopropynyl butylcarbamate
This is a conservant used in cosmetics
Hexy cinnamaldehyde
extract used for its aroma
Limonene
A fragranc NSB PharmaClinix,Body,Christmas Gift Ideas"
---
We Also Recommend