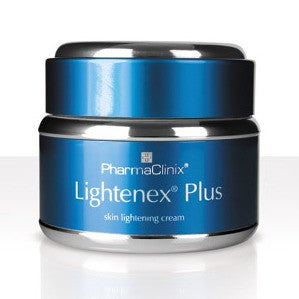 PharmaClinix Lightenex Plus Cream
Lightenex Plus cream is a new powerful, extra strength formulation, which has been especially developed to address the problem of very dark & resistant hyperpigmentation. 

Lightenex Plus cream is particularly excellent for very dark skin tones (darker Asians & African skins). 

Lightenex Plus contains a unique blend of the latest scientifically developed skin lightening agents that are completely safe and produced according to the stringent EU regulations. 

Lightenex Plus contains:
Kojic dipalmitate, which inhibits the enzyme tyrosinase, that is essential in the synthesis of Melanin(dark pigment)
Dioic acid derivative is a powerful inhibitor of Melanin production & penetrates deeply through the epidermal skin layer.
a collection of some of the rarest plant extracts obtained from all over the world that are reputed skin whitening agents and enhances the effects of Kojic dipalmitate & Dioic acid.

Please note: 
It is essential to wear a high sun protection cream on top of Lightenex Plus, e.g. Moisturix spf 25 or Sun Blockex spf 50 (total sun block)to avoid further damage from the sun. 

Darker skin tones suffer more from:
changes in the texture of the skin (roughness)
the appearance of small, brown or black bumps (dermatosis papulosa nigra)
hyperpigmentation (dark marks or discolourations)
loss of the volume of the skin (sagging).

Pigmentation changes: 
Changes in the skinÕs pigmentation occur as we age and are very prominent in darker skins. Exposure to both ultraviolet A (UVA) and ultraviolet B (UVB) light stimulates the production of melanin which most likely accounts for darkening of the skin. There are 4 commonly occurring types of darkening.
Localized areas on the face and neck
More generalized areas on the face and neck
Dark under eye circles
Uneven skin tone

Hyperpigmentation (darker areas) can now be safely treated with Lightenex Plus 

Causes of Irregular Pigmentation:
Sun exposure
Pregnancy
Birth control pills and hormone treatment with oestrogen
Inflammation from insect bites, acne, trauma, or other causes
It has been a well known fact that the darker skin toned people used drastic measures in order to lighten skin, but:
Do NOT use skin lighteners containing Hydroquinone.
Do NOT use bleaching creams containing steroids. These can cause permanent skin damage including permanent redness, thinning and blood vessel streaks.
Do NOT use creams containing mercury as this is a poison.
These products are dangerous and have been banned in most Western countries. 
Lightenex Plus is a safe, yet a very powerful skin lightening cream that has been scientifically developed under the strict EU Regulations. caution: Can cause mild irritation & tingling for a few minutes after application.

DIRECTIONS FOR USE
Apply a thin layer on a clean face or body, twice a day.
Use a high Sun protection cream after Lightenex Plus.
Avoid contact with eyes and mucous membranes
Keep out of reach of children

CAUTION
Can cause mild tingling & irritation for a few minutes.
INGREDIENTS (INCI):

View Ingredients PDF
Suffering from a particularly resistant hyperpigmentation?
Tried everything to lighten skin, but no results?
Try Lightenex Plus!
---
We Also Recommend