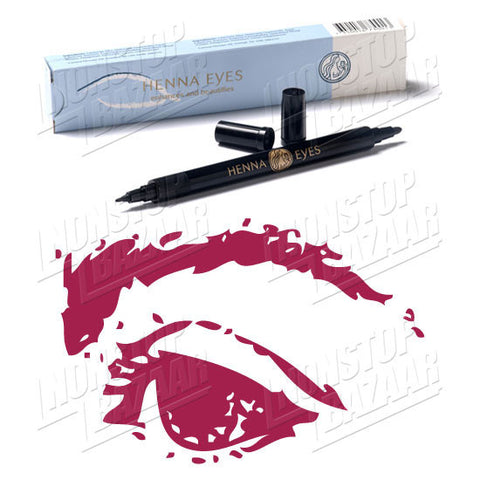 Henna Eyes - Raspberry Pink
Henna Eyes - New, unique and safe!
Thanks to a unique combination of modern technology and the best that nature can offer, Henna Eyes is the perfect solution for long-lasting and natural make-up.Ê
Henna Eyes is a revolutionary product that gives the contour of your eyes a fashionable and long lasting colour thanks to pure henna extract. Henna Eyes is a semi-permanent eyeliner based on 100% natural ingredients.
Double function Ð an eyeliner and a brow liner!
Long-lasting and natural make-up thanks to pure henna extract.
Touch proof Ð does not smudge.
Henna Eyes is based on 100% natural ingredients and on pure henna extract.
Soft and gentle.
Free from preservatives and artificialcolours.
Not tested on animals .
Henna Eyes represents all the beauty enhancing benefits of henna, Lawsonia Inermis, without the complicated process that traditional uses of henna requires. Thanks to its unique formula and shape Henna Eyes is a straightforward and easy to use product.
Perfect look all day long.
A two-tipped pen for high precision.
Colours for all tastes.
Choose from our range of colours to match your mood and clothes!
Choose to be a Classic Beauty with our traditional colours: Liquorice Black, Agave Grey, Black Currant, Blueberry, Cocoa Brown, Hazelnut and Fudge.
Or go wild with our trendy palette of colours: Rasp_berry Pink, Purple Plum, Mint Blue, Avocado Green and Golden Hony.
Application: Henna Eyes can be applied on the eyelids and eyebrows, but should not be applied on the inside of the eye. Apply before eye shadow.
Note: We recommend that people with sensitive skin always test make-up products on small areas first.
The Henna Eyes has the lowest concentrations of pure henna extract of all the Henna pens.

Agave Grey and Black Currant have the highest concentrations. The Liquorice Black and Cocco Brown colours have the second highest concentrations.

The colours can last on the eyes for up to 24hours.Ê

The Henna eyes have been specifically formulated to be easily removed with make up remover.

To increase the lasting properties of the Henna Eyes, please re-apply to the same area.

Close cap after use to avoid contents from drying out.
Should this occur you can gently draw out the ink and hydrate the pen tip using a tissue soaked in a small amount of alcohol e.g. perfume. This method can also be used if the pen tip becomes clogged up in error e.g. if pen is applied over eye shadow or lipstick.

Ingredients: Lawsonia Alba, Matricaria Chamomila, Aqua, Capsicum Annuum, Eugenia Caryophyllata, Hydrolized Wheat Protein, Polygonum Tinctorium, Linum Usitatissimum.
Enhance the beauty and highlight the shape of your eyes in a natural way with Henna Eyes!
---
We Also Recommend